Update Tishrei from Ramat Gan
Uri Pinsky
Shalom from Ramat Gan,
Wow, what an incredible Tishrei we had, Thank G-d, and we're blessed to have merited such!...Today, as we enter the winter spirit and G-d willing begin our winter term at yeshiva, I will share some updates and feelings.

Elul term in yeshiva was filled with great intensity in the beit midrash, an atmosphere of powerful learning, and deep preparation for the High Holy Days with breadth of knowledge.
Our learning project for working individuals – Tzafra Tava – attracts dozens of participants each week. The unique model which enables businessmen to attend focused lessons and from there continue to their workplaces in the centre has proven itself and garnered much praise. If you have not yet attended, it is highly recommended.
During the last meeting before the break, Rosh Yeshiva Rabbi Yehoshua Shapiraprepared us for Yom Kippur with the Sfat Emet, after which the head of our beit midrash, Rabbi Ben Zion Algazi, prepared us for choosing our lulav and etrog and keeping the mitzvot of Sukkot.
A special joy was felt at the wedding of one of our founding students, among Rabbi Shapira's leading students and followers who married at age 40 (I won't mention his name, but graduates of the yeshiva certainly know his identity). So why am I telling you this? First of all, to offer him heartfelt congratulations, and also to tell the following:
Obviously, the wedding was a virtual reunion of yeshiva graduates, the broadest and most successful we've ever had, with several dozen graduates from the founding classes, referred to by younger students as "the dinosaurs:, and everyone celebrated together and for each other at the wedding.
I observed from within and from the side, and it was incredible to see how such a special and holy community of servants of G-d has grown and continues to develop from the yeshiva. People filled with Torah, many with an astonishing breadth and depth of knowledge, acquired from and alongside learning and progress in service of G-d, spreading Torah knowledge, each from his own place and style.
Among our graduates we can count Rosh Yeshivas; rabbis at high schools and senior yeshivas, some of them leaders in their own fields; rabbis of towns, communities and neighbourhoods, founders and heads of Torani seed communities; leading authors and writers in Torah subjects; talented musicians and artists, some very well-known; teachers and principals in elementary schools; key community members of many Judea and Samaria settlements; regional council members and leaders; psychologists, doctors, businessmen and more. Several of the guests spoke to me about the uniqueness of this group, how it should not be taken for granted, and we must therefore truly thank G-d for our rabbis in the yeshiva who raised and continue to raise such wonderful flowers, may He continue to so bless us. To further illustrate the point, some days later, during Chol Hamoed Sukkot, some of the group met in one member's sukkah, and one of the attendees announced that he had to make a siyum. Of course we were very happy, and then it became clear he meant on the entire Talmud! I was surprised and wanted to publish his name, but he insisted it was no big deal…perhaps this is not his first siyum shas…?!
Here are some pictures, just to give you a sense of the atmosphere.
Another note on the topic of study and Torah, before we go on to the events of the season. Before the holidays, we produced a special disk of lectures from the last "B'chol Levavcha" conference, including the wonderful tune "Lev Tahor" (yes, the same one which has already accumulated 300,000 views on Youtube!) from the incredible Mevakshei Panecha album. We distributed the disk free of charge to our donors, graduates and parents of students.
The response we got to the disk surprised us greatly. More and more people told us they listened to it repeatedly while driving, and praised the special quality of the lectures from the conference.
For example, one of the leading students of the yeshiva stopped me in the street and said, "I have to tell you something…I've always heard about the conference, but I told myself it's probably suited more for non-yeshiva students and not for me. Now that I got the disk in the mail and have had a chance to listen to it over the break, I was surprised by the quality of the lectures at the conference. Really, every one was sensational, and I've learned so much from them. Rabbi Chananel Etrog's words accompany every time I say Shema now, and likewise other lectures. Only now do I realise how important and special this conference is…" You can get your copy here.
In Elul, we merited to host several hundred secular junior high students and their parents at the yeshiva. This special erev slichot program included encouraging talks, plays, singing, dancing –for the boys with the yeshiva students and for the girls with the national service volunteers – and the pinnacle: reciting selichot services from the depths of our hearts and souls. Whoever did not see these sweet youngsters – with piercings everywhere imaginable and hair and attire to match – shouting shema yisrael and the thirteen middot with such heartfelt sincerity…the very sight was moving. Am Yisrael Chai! Do not judge a book by its cover!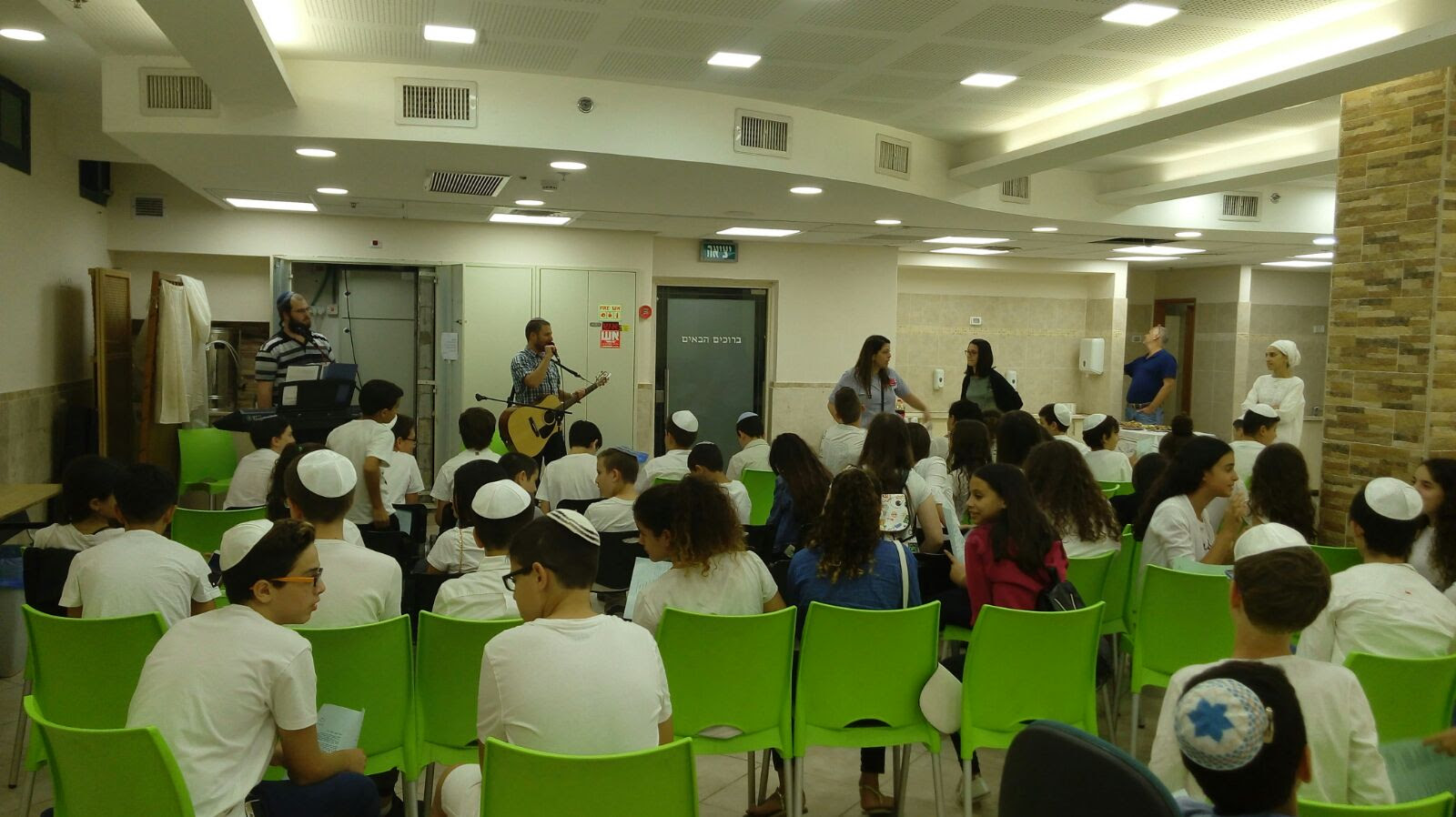 On Rosh Hashana, at the initiative of the department for Jewish tradition, headed by Mr. Chaim Gillerman and managed by Mr. Tuvia Tal Ozeri, Rosh Hashana seders were held at five locations across the city. Here is how department manager, and my good friend, Tuvia describes it:
"This year, Rosh Hashana seders took place in five locations across the city: the Hallel, Merom Neve, Ramat Amidar and Ramat Hashikma neighbourhoods, and downtown. Hundreds of city residents participated in the seders, and at each seder there was a leader who directed the event. Responses were overwhelmingly positive, such as, 'Thank you for worrying about us'…In Ramat Amidar, Rabbi Eli Shoham from the yeshiva community lead the seder. Je and his family managed to cheer up many seniors and elaborate upon the meaning of the holiday with great emotion. In Merom Neve, Rabbi Kali and his family, along with the residents, broke out in dancing at the end of the meal. All that remains is to hope this wonderful tradition continues for many years to come!"
For me, it remains to wish a hearty congratulations to all those involved in the success of the program.
Rosh Hashana – wonderful prayer services at the yeshiva, attended by many guests who come to the area especially for them, including some who walk as much as an hour to be there. The service ended particularly late, around 3 or 4 pm, leaving hardly any time to eat a festive meal and regain strength before the next prayer service…yet with all this, dozens of yeshiva students and families from the community went out after lunch for Operation: Shofar. They spread out though the nearby neighbourhoods and blew shofar for anyone who wanted, some even reaching as far as Ramat Gan National Park, a half-hour walk away. Uriel, a wonderful student from Ramat Hagolan and a graduate of the Hispin yeshiva high school who has just begun his first year of studies with us, told me, "We wandered down so many streets, getting almost as far as the National Park; it was amazing, and worth every second. You're just walking down the street and more and more Jews are stopping you and asking to hear the shofar. People with tears in their eyes, thanking you with all their hearts. One of the people, an elderly gentleman, was so moved, he told us with tears in his eyes that he hadn't heard the shofar in nearly 20 years!" Another community member and former student noted that he had risen early for vatikin prayers in order to make it to Operation: Shofar, and he and his wife walked with their baby in a stroller, met many people, some of whom asked him to come into homes and blow shofar for sick or elderly individuals. Amazing!
Yom Kippur at the yeshiva – guests from across the country; registration was full already by around Rosh Hashana, and the atmosphere was exalted and very special. Here, too, dozens of students passed up on all of this and travelled to several kibbutzim across the north and south of Israel to hold minyans on this holy day. This amazing phenomenon is getting more popular; some kibbutzim so far removed from Judaism that they do not even have their own synagogues hold a minyan attended by the majority of members in their cultural centres or dining halls. More and more residents attend each year, from children to the elderly.
One of the largest groups went to Kibbutz Urim in the south, and this is the flyer that was distributed on the eve of the fast. How they prepared, invested, bought and did…I heard from them that it was especially powerful; congratulations to one of the initiators, Yitzchak Elhanan Drori. Did you notice the name "Shapira"? This was no coincidence; the apple does not fall far form the tree…
Likewise in Ramat Gan, three special minyans in the Tzohar style took place in community centres and gyms, each attended by hundreds of Jews, particularly for Kol Nidrei and Neilah. I merited to be cantor at one of the Neilah services, and it was truly a special experience. You begin with 60 or 70 people, but as you approach the climax of the evening, more and more people our into the gym; I'm shouting, and I already have no voice after a full day of fasting and praying in the "wonderful" acoustics of the room, but in the moment before accepting the yoke of heaven and blowing the shofar, I lift my eyes and see hundreds of men, women and children crowding in to hear, then everyone roars together, "Shema Yisrael!" and we find within ourselves strengths we did not know we had. Dozens of people approach after the service, with thanks and blessings, to register for upcoming events.
Wow, are you still with me? So let's continue to Sukkot. Besides our travelling Sukkahs, built by our national service volunteers at the public schools in which they are active, we hosted several large public events in celebration of the holiday. The operation, also led by the indomitable Lahava Zuriel, coordinator of outreach programs, and her right-hand woman, Hadas Noiman, once again took place in cooperation with the department for Jewish tradition. At each event there was a sukkah and arba minim to fulfil the mitzvah of the holiday, crafts and performances for parents and children. Enjoy these photos from the wonderful "mayor's sukkah" in downtown Ramat Gan.
And now to return to the yeshiva. Have you noticed the ongoing activity inside and out all the time? That is indeed the experience of the holidays here; intensely spiritual events at the yeshiva, drawing strength and directing it as much as possible outwards.
The Sukkot events of the yeshiva have already become inalienable, some at the national level. We being with a simchat beit hashoevah, with hundreds of participants dancing for hours and revelling in the joy of the holiday. From there we continue with a special night of learning on Hoshana Rabbah. This year we dedicated the evening to "the service of G-d during the High Holy Day season", in the style of the Bchol Levavcha conference. Wonderful lectures were given in tandem to both the men and women, with over a thousand participants passing through over the course of the night in the various classes. The responses were wonderful. Towards the morning a special meeting took place with Rabbi Daniel Cohen, the rabbi of Bat Ayin (see part of it here). The rest of the lectures can be seen here. During shacharit services someone even dared photograph the Rosh Yeshiva. Following are pictures from the event and prayers. The event was also broadcast live on Arutz Sheva and the yeshiva's website.
Do you have any energy left? "U'sh'avtem mayim b'sasson mima'ynei hayeshua…" On Simchat Torah we, along with reinforcements, students and many guests, went out to brighten the city with Torah parades. At night, we split into two groups and spread out to the many synagogues in the neighbourhood and nearby area for hakafot. The next morning we prayed at sunrise, skipped over hakafot and Torah reading and again split into two groups for a long parade and dances in the various synagogues through the many kilometres of the streets of Ramat Gan. All told, some 600 men, women and children participated in the two groups. Great joy, Torahs hoisted high in the air, voices raised in song to encourage people to join in. It was incredible to see people walking out onto their balconies on upper floors of tall buildings to see the celebrations, people stopping and getting out of their cars to kiss the Torah with tears in their eyes, candies flying in all directions, righteous women who appear secular blowing kisses through the air towards the Torah, etc… Seven or eight hours of dancing through the streets, passing tens of thousands of Jews…(Have you ever counted how many people live on a street with dozens of buildings, each one with as many floors? And what happens when you pass many streets like that?) It was truly a special experience, Rabbi Levi Yitzchak of Berditchev would have composed a host of defences for the nation of Israel had he been with us.
After all of this we arrived at the yeshiva, quickly read the Torah and sat moments before sunset for our holiday meal.
This year we added something new. The Rosh Yeshiva gets up for Chatan Torah, and there, as we finish reading the Torah and prepare to start anew, a special Mi sh'berach is said for the yeshiva's donors and contributors. We bless all our partners who provide the fuel to continue and increase our activities, with particular mention of the 60 most generous supporters.
On the topic of donations, this partnership is heartwarming, especially when you feel the donation comes from a heartfelt desire to contribute, and rather than having to "chase after" funds, they come to you. For example, one partner who came especially from the south for Hoshana Rabbah, enjoyed himself so much that he turned to one of the organisers and said, "Tell me, can I set up a standing donation for the yeshiva?" He immediately signed a monthly bank order for 200 NIS a month to the yeshiva. Someone else called the office two days ago; he had been donating anonymously for years, and wished to increase his monthly contributions from 400 NIS to 900 NIS. A month! He asked that without mentioning his name, Rabbi Yehoshua, Rabbi Elgazi and Rabbi Namdar be notified that he enjoys their lectures tremendously and salutes them. And finally, a longtime friend whose sun recently became a father after many years of waiting, called me to offer a donation of 10,000 NIS. "Do you know why?" he asked me. "5,000 for the High Holy Days and 5,000 to share our great celebration with you." Wow, incredible! How encouraging and heartwarming! You, too, can donate, here.
Ok, after such a gruelling day, surely you must go to sleep? The hakafot shniot of the yeshiva have earned a place among the top hakafot in the religious Zionist community. Thousands of people attend throughout the night, to celebrate as only Ramat Gan knows how…This year, the number of attendees grew particularly, and the social range was impressive. From across the country, young and old, famous individuals alongside ordinary citizens, we were lucky to get a few pictures from this unbelievable event. The hakafot were broadcast live on the Facebook page of Channel 20, and 18,731 people watched (thanks to our friend Dr. Peretz Cohen who came especially from Kochav Hashachar and went to the trouble of checking and sending me the exact number of views on Facebook).
You are invited to view part of the hakafot here.
I would like to wish you and all of Am Yisrael a good and healthy winter, both physically and spiritually, all the best and an abundance of blessing.
With blessings of Torah,
Uri Pinsky