Special update - Yeshiva's major expansion
Uri Pinsky
Shalom from Ramat Gan,

How are you? Hope you and your family are well, getting ready for the big and holly holiday of Pesach.

Before the update, I am happy to inform you that i am planning to come to the states Beezrat Hashen on May 14th until May 23rd. This time i will have the honor of coming with a good friend - Yogev Gilboa - One of the founders of the Yeshiva, a partner that helped build with and for the Yeshiva many Kiruv and Tora projects, I am sure it will be a pleasure for you to meet him.
We would love to meet you on our trip.
I would like to share with you our feelings of great joy and gratitude toward HaKadosh Baruch Hu for the yeshiva's major surge of expansion, both inward and outward, over the past few years.
In recent years, we have achieved significant progress in many areas related to our yeshiva and garin. I will demonstrate this with several examples (topics that I have mentioned in the past will be briefly reviewed).
A few years ago the Beit Midrash, the heart of all our activities, wasjoined by a significant and leading Torah force: Rav Ben-Zion Azlgazi shlita.
Rav Algazi, known to the general public thanks to the amazing Tzurba Merabanan project that he has established in hundreds of communities in Israel and around the world, serves as the head of the Beit Midrash and a Ram of Shiur Aleph.
In addition, the Rav delivers many shiurim to all age groups in the yeshiva, as well as a shiur klali every three weeks, in addition to the amazing weekly shiur klali of the president of the Yeshiva and the Rabbi of Ramat Gan - HaRav HaGaon Yaakov Ariel shlita.
In general, the work of the Rabbis in the Yeshiva was upgraded, many new programs were opened, and the atmosphere of study in the Beit Midrash was particularly intense. We conducted a major sium of Masechet Bava Batra in the Yeshiva, which included the participation of HaGaon Rav Shlomo Amar shlita. When such a large group of talmidim, three of whom were on the eve of their conscription to the IDF, finish the largest masechet in Shas, it is an exciting and inspiring sight.
A small example of the initiative of the Ramim and the staff: For many years, talmidim in the yeshiva did not have enough direct and regular conversations with the Rosh Yeshiva, Rav Yehoshua Shapira shlita. But over the past two years, due to the insistence of the educational staff, a norm has been created under which the Rosh Yeshiva periodically has a round of conversations with all the talmidim, so that every talmid gets to meet the Rosh Yeshiva for a one-on-one conversation once in a while. This is very important, of course.
Next year, God willing, a kollel for dayanut will open in the yeshiva, another significant stage in the amazing expansion of the Beit Midrash.
The Beit Midrash has grown significantly in the number of students and avrechim. In the past two years, Shiur Aleph numbered almost 40 talmidim each year. We anticipate another large and excellent Shiur Aleph next year, as by this point of the year we have received a record number of applicants who have been accepted to the yeshiva and have signed up for next year. The level of interest and demand is both surprising and exciting (12th graders had better hurry up…). In order to accommodate this large number of talmidim, physical adjustments were made at a very high cost: Closing a classroom, purchasing tables, and very soon, God willing, we will purchase more furniture for the Beit Midrash, add places in the Beit Midrash and in the dining hall, and more.
TheYeshiva's website was completely renovated a few months ago. Today there is an advanced and accessible site that enables the general public to be with us from afar, to taste, learn, and participate in other wonderful activities. Now we are also developing a Facebook page, live broadcasts, and other surprises. The English part will be cmpleted very soon...
Last year, the yeshiva published two books and an album. The book "Leavingthe Da'at," by Rav Yehoshua and Tzvi Eyal, on the topic of marriage, was published by Yeshivat Ramat Gan and Yediot Sefarim, and is very successful, with thousands of copies sold. The album "Mevakshei Panecha – Farbrengen in Yeshivat Ramat Gan", succeeded above expectations. Originally we printed 4,000 discs, and now we came out with another 1500. The reactions are amazing; if you do not already have it, I strongly recommend buying it here or in the Dabri Shir bookstores. One of the best songs in this album - Lev Tahor - was Published at Youtube and more than 130,000 people heart it. Did you do so?...
And here is a scoop: We are currently conducting a final survey before working on a new album of Hakafot Shniot in Yeshivat Ramat Gan. In this project, too, we will try to bring you an authentic album on the one hand, and a professional music album on the other hand; a taste of the special joy of Ramat Gan at Hakafot Shniot with uncompromising professional tools. Let us daven that Hashem's grace be upon us and that He will render our endeavors successful. ויהי נועם ה' עלינו ומעשה ידינו כוננה עלינו.
Recently we started on a new project: Publishing booklets of Rav Yehoshua on a variety of topics. Booklets on Purim and Pesach have already been published, and a booklet for Shavuot is on its way. I recommend that you follow this development and purchase the booklets, which are easy-to-read, cheap, and accessible.
Here's another scoop: After many years and requests from overseas, for the first time we are publishing an English translation of a booklet of Rav Yehoshua's sichot for Shavuot (donations and commemorations will be appreciated). We hope that this booklet will be successful, so that we may then proceed toward a great old dream of ours: Publishing the important book "Ashiv Mimetzolot [I Will Return From the Depths]" in English. This is one of Rav Yehoshua's first books, dealing with the issue of shmirat habrit, of which thousands of copies were sold, saving many souls.
We are also currently preparing the 6th Annual Bechol LevavchaConvention. What began as a nice idea with several hundred participants became one of largest conventions of the National Religious community, attended by thousands of men and women from all of Israel, who pack the Ganei HaTa'arucha hall in Tel Aviv for a day entirely devoted to Avodat Hashem; a dream come true, where Avodat Hashem is at the center of the stage and the conversation. Here, too, the production is professional and impressive. This year we are preparing new surprises for the participants, and we hope to publicize all the details after Pesach, God willing.
Another project of recent years is the Tzafra Tava project: Morning Torah study for working people. This innovative and highly successful venture attracts people from a variety of fields who once or twice a week decide to "snatch" two amazing shiurim on their way to work. The shiurim are short, adapted to the target audience, and enjoyable. Among the participants are teachers, businesspeople, judges, high-tech workers, and a number of retirees (among them one who is particularly close to me; way to go, Abba, for your persistence and effort, coming especially from Beit-El every week). Attendance is strongly recommended. Thanks to this wonderful project, we all benefit tremendously from the video shiurim filmed every week in Tzfara Tava and are sent to you in the weekly e-mail. We get amazing feedback from you about these shiurim, as well as the written shiurim sent in the weekly e-mail to thousands of regular subscribers. Thank you for your trust, participation, and feedback.
There are also amazing developments in the field of educational projects and spreading Judaism. I will not elaborate here, because I have done so extensively in the past and I am trying to keep this review concise and general. However, there is an update that is "hot out of the oven," about which I have not yet written.
Thank God, after years of construction, planning, winning tenders, learning from the amazing Nofshon Shomron center, etc., we have been privileged to open Nofshon Ramat Gan, a vacation resort designed for children with special needs, special and sweet children who need close supervision and their family members are compelled to stay with them. The purpose of the vacation resort is to make it easier for the children and their families to rest and refresh themselves, in a professional and supervised center that is also fun and enjoyable. Two weeks ago, the resort finally opened, and we hosted three lovely children in the yeshiva. The children, the parents, the municipal welfare department, and the inspectors of the National Welfare Ministry were particularly pleased, and are already waiting for the next Shabbat (the vacation is scheduled to take place on Shabbatot when the talmidim go home, once every three weeks). Attached are photos approved for publication.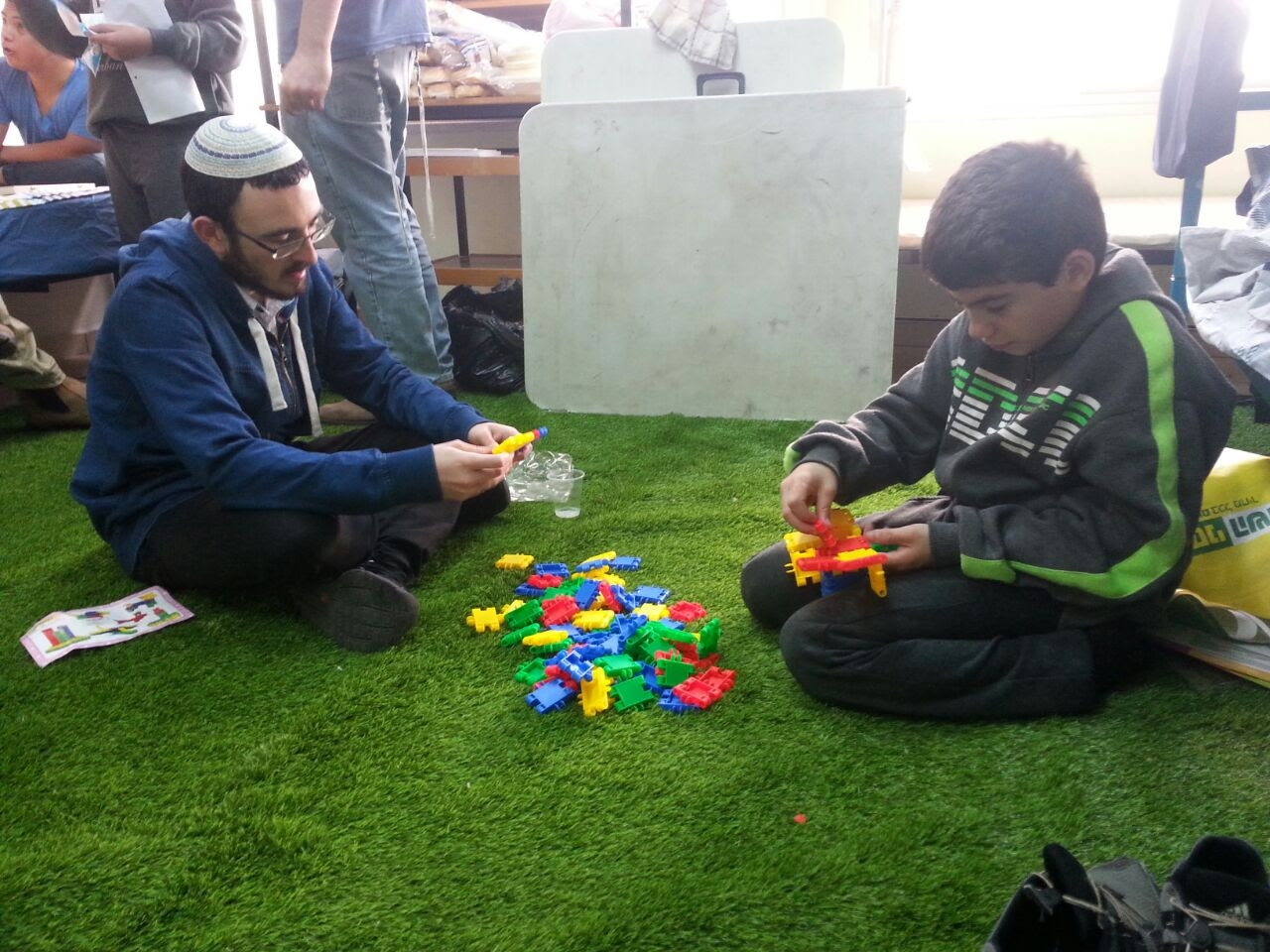 An amazing detail about the importance of Nofshon Ramat Gan: The three special children who came to us are about 15 years old. This Shabbat at the yeshiva was their first Shabbat without their parents, meaning that until this Shabbat, their parents could never rest or relax, and the children could never spend Shabbat in another atmosphere. I was especially moved to hear this amazing fact, which made me realize how important it is to invest in this project. We hope that following this breakthrough we will continue to develop cooperation with local and national welfare agencies and to harness the amazing forces that exist in the yeshiva and in the garin for this important field as well.
Well, I promised to cut short so I will not write about many more things that I wanted ... but I believe that the overall picture is very clear: Baruch Hashem, the yeshiva is experiencing a significant surge of expansion and activity in several areas. We pray to Hashem to give us strength and ability to continue to succeed in developing new projects as well as preserving the current ones.
Finally, in the name of the Rabbis, the talmidim, and the Yeshiva, I wish to wish you and your children a happy and kosher Pesach, a spring full of holy freedom, and redemption for Am Yisrael and for every individual.
All the best, a happy and kosher Pesach,
Uri Pinsky